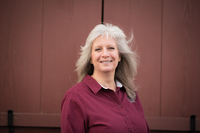 Christy Goodhue Mank
REALTOR® Broker/Owner
In addition to my career in real estate I am devoted Wife and Mother and am active in the community which I live. I have served as a member of the Economic Development commission in Boscawen, and was active for 7 years with Boy Scouts of America. I continue to support my community, public school events and activities.

I am proud to be the wife of Brian Mank, who served our country in the United States Navy for nearly 22 years. We are active members of the Boscawen Congregational Church-UCC and take great pride in our community. In our free time we enjoy hiking, X-C skiing, snowshoeing, NH wildlife, zip-lining, motorcycling and time spent with our children and extended family.

Prior to my career in real estate, I was the owner of 6 successful restaurants. I have acquired a strong business background through personal hands on experience and triumph. I continually expand my knowledge and training in real estate through continuing education classes, so that I may better serve my customers and clients. I am a Graduate Buyer Agent and have helped hundreds of buyers and sellers achieve their real estate goals since 1994. I'm looking forward to working with you and accomplishing our common goal of selling your current home or finding you a new one!