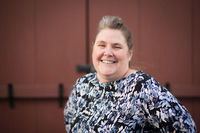 Thank you for taking time to learn more about me. Life has a way of turning you down one road after another, and after 20 years with a technical company I find myself here … helping people find the place they call home.
I've come to believe you cannot do enough living, laughing, and learning. Life is good even though we all face some adversity along the way. Optimism is an important quality and one I try to hold tight.
Life with my husband and our dogs is a dream come true. The time I get to spend with my son and two grandchildren is precious. There is so much in my life to be grateful for, including being here to help people with the process of selling or buying "home". I am excited to be able to reach out for you as part of Christy Goodhue Real Estate.